Dr. Robin Livingston
Veterinarian
Dr. Livingston is a graduate of the University of Georgia Veterinary School and also did her undergraduate work there. She is a native of the D.C. area, but has resided in the North Myrtle Beach area since her high school days. She opened Kind Care Animal Hospital in June 1996. Dr. Livingston and her husband have 3 children.
Dr. Kim Stengel
Veterinarian
Dr. Stengel, a Myrtle Beach native, graduated with a BS in animal industries from Clemson University in 1992. She attended Tuskagee University School of Veterinary Medicine and received her DVM in 1997. She joined the Kind Care family in 1999. She completed the International Veterinary Acupuncture Society (IVAS) course in 2001 and is happy she can add this modality to help her patients. Dr. Stengel enjoys camping with her husband, Glenn, children (Jake and Abby), and their dog, Zeke.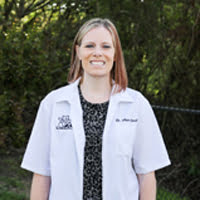 Dr. Alison Carroll
Veterinarian
Dr. Carroll grew up in Richardson, Texas, near Dallas. She received her DVM from Texas A&M University Veterinary School in 2005. She has been coming to the Myrtle Beach area to visit her grandparents since she was a little girl and always loved the Grand Strand. Therefore, after she graduated veterinary school she moved down and joined the Kind Care family in June 2005. Dr. Carroll's goal as a veterinarian is to treat all of her patients like she would her own pets and to the best of her ability. She loves all aspects of veterinary medicine, but particulrly enjoys internal medicine. In her spare time, Dr. Carroll enjoys reading and spending time with her husband, Bo, their two sons Mikey and Keegan, their daughter Kinsey, and their loving dog Ernie.
Dr. Mike Marino
Veterinarian
Dr. Mike was born and raised in Pennsylvania (GO EAGLES!). He attended West Chester University, where he earned a bachelor's degree in biology with a concentration in microbiology in 1997. He then worked for several years in research, where he eventually met his wife, Carolyn. Dr. Mike felt God calling him in a different career path and in 2005 he was admitted into Kansas State University College of Veterinary Medicine. Dr. Mike and Carolyn married two months prior to school starting, and moved away from all of their friends and family. It was worth it in the end. Dr. Mike achieved his goal of becoming a veterinarian in 2009, and is looking forward to a long career in veterinary medicine. He joined the Kind Care family in July of 2015. He and his wife have two daughters, Bethany and Tiffany, and one son, Joshua. They also have three cats: Maggie, Stitch and Chewy and one dog: Loki.
Dr. Rachel Carey
Veterinarian
Dr. Carey is originally from Charleston, West Virginia. She has always wanted to live in a beach town, so after graduating the Virginia-Maryland College of Veterinary Medicine in May 2018, she moved to the Grand Strand. After completing her internship with Kind Care in early 2018, she knew she was in the right field and couldn't wait to start seeing patients at Kind Care as a full-time DVM in June 2018. Dr. Carey is a cat lover, and enjoys spoiling her three at home. She has two domestic shorthair cats named Dale and Brennan (named after the movie Stepbrothers), and a Devon Rex named Tula. In her spare time, Dr. Carey enjoys going to the beach, reading, and going back up north for snowboarding.
Dr. Leslie Mucci
Veterinarian
Dr. Mucci joined Kind Care Animal Hospital as a relief veterinarian in 2015 and came on board as a part-time veterinarian in September 2019. She grew up in Greenville, South Carolina, attended undergrad at Clemson and then the College of Veterinary Medicine at Tuskegee University. She practiced veterinary medicine in Las Vegas, Nevada for 2 years and in Houston, Texas for 4 years before returning to the East Coast. She and her husband moved to Myrtle Beach, SC in 2015 and together enjoy Clemson football games, traveling, hiking, and surfing with their daughter. Her family pets include Tilly, a black labrador retriever mix, and Mojo, a gray domestic shorthair.
Dr. Adri Casagrande
Veterinarian
Dr. Adri was born and Ft. Lauderdale, Florida. Growing up, she split her time between the beach and the barn before heading to undergraduate training at the University of Finlay in Ohio. She then headed west and graduated from the University of Missouri College of Veterinary Medicine in 2015. After graduating vet school, she practiced at a small animal hospital in the upstate of South Carolina. Dr. Adri is happy to return to the beach and join the team at Kind Care. When she is not working, she enjoys watching E-sports, attending car shows, and caring for her large menagerie of pets.
Sam Maloni
Practice Manager
Sam Maloni, our practice manager, also a Horry County native, joined the Kind Care family in 2015. She earned her degree in communications from the College of Charleston and came to us with Veterinary management experience from a previous clinic. Her creativity and innovative ideas have been an excellent addition! She works hard to keep up with not only the schedules of all of our support staff but also the doctors, on top of creating interesting and interactive content for our Facebook page. She is always striving for excellence with her innovative ideas and ways of promoting the KCAH family. Sam enjoys photography, good books and traveling. She has three fur-children, Bentley, a Shih-Tzu mix, Shelby Ann, a Chocolate Labrador, and Eloise, a sassy calico.
Lauren DiTore
Assistant Manager
Lauren DiTore, our assistant manager, joined the Kind Care family in 2017. She is originally from Old Bridge, New Jersey and moved down to our area in 2015 to be closer to her family. She is excellent at getting to know clients and making sure they are happy with their experience. She comes to us with previous management experience in the dental field and wanted to apply her skills in the veterinary field. She enjoys spending time with her daughter, Ryleigh and her two pit bulls, Duke and Duchess. She likes beach days and binge watching Netflix!